After Sora's last adventure, all of the heroe's memories of the last few years had been wiped so they could start a clean slate. However, now they had to start school.The teachers are keeping secrets about the past from their students. Because they are the only ones who remember. What secrets lie to be awakened in oiur heroes path today?Who shall know but they themselves.What misfortunate souls are being guided to the dark.Heh heh heh.....


Characters already Made:

Xion
Isa
Sora
Kairi
Namine
Riku
Roxas
Man-Xemnas
Demyx
Axel
Marluxia
Saix


Character Sheet:

Student:

Name:
Age:
Gender:
Appearance:
Crush:

Teacher:

Name:
Age:
Gender:
Appearance:
What do you teach:
Crush:


Mine~

Name:Kaeran/Anarkex
Age:18/18
Gender:male/Male
Appearance:
Crush: ?/Katexrs

Name: Elana
Age: 17
Gender: female
Appearance:
Crush: Riku

Name: Aneryx
Age:18
Gender:male
Appearance:
Crush: Xion

Name: Analex
Age:17
Gender:female
Appearance:
Crush: Sora

Name: Rayne
Age:18
Gender:male
Appearance:
Crush: Namine

Name: Heaven Cross
Age: 21
Gender: female
Appearance:
What do you teach: History
Crush: Saix

Admin




Posts

: 138


Join date

: 2010-06-02



Name: Kestra
Age: 14
Gender: Female
Appearance:
Crush: Isa/Rixarch, but they're just friends.
Name: Skatxre
Age: 17
Gender: Female
Appearance:
Crush: Roxas
Name: Katexrs
Age: 16
Gender: Female
Appearance:
Crush: Anarkex, but she will not admit.
Name: Rixarch
Age: 14
Gender: Male
Appearance: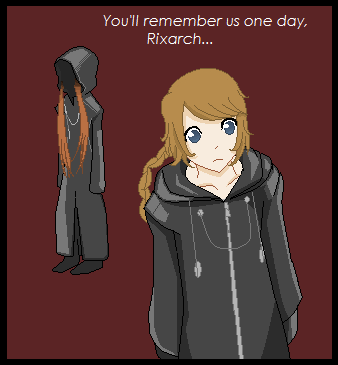 Crush: Kestra, but they just want to stay friends.
_________________
Katou Nanami ~~~ The Two Sides ~~~ Kestra James



Posts

: 120


Join date

: 2010-06-02


Age

: 22


Location

: At the mirror



Kestra walked down the street slowly, to meet up with the only friend who ever truly understood her, Rixarch. First day of school today. Everything was going to be different - Kestra and Rixarch were now Sophamores, but they were the new kids of this school (with the expection of Freshmans, of course). And what else was new to them, was the uniform. For one... Kestra hated skirts. ESPECIALLY if they were short. But her mother helped her with that. Skin-colored tights underneath, and she made the skirt longer for her with superb sewing skills. And for Rixarch... well, he just wore what he felt like wearing. He didn't intentionally break the rules, it was just strange for him to wear school clothes without one tiny flaw. However, today was different. When Kestra reached the bottom of the street... "Oh my god Rix, you're actually obiding by school uniform? Wow." She couldn't help but let out a giggle. "What? My mum made me wear it correctly, I can't help it." Rixarch replied, as they started heading off to school. "C'mon, let's go meet our new classmates. Mind you, one thing that won't change is my two sisters..." Kestra murmured, rolling her eyes.

~~~

Saix sat in his car as he drove towards the big school, boredly staring out of his front window. His yellow eyes stood out against the dull inside of the car. Who knew what 'joy' today would bring. Then again, he didn't mind break time... the staffroom was the best chillout zone ever... and he could hang around with his favourite headteacher... but other then that, his day was extremely dull, according to him. As he pulled up at the school's car park and got out of the car, he looked around. No sign of any of the other staff... yet. But he always made sure he got here early, just so he could get his plans out of the way.

~~~

Skatxre and Katexrs left the house 10 minutes after Kestra did, AND only woke up 10 minutes ago too. They were the older sisters, with Skatxre being the oldest by one year. "Looking forward to welcoming Lil' K?" Skatxre smirked. "Oh hush." Katexrs hissed, walking ahead by 3 steps. Katexrs hated her family. Skatxre more than any of them. Skatxre had to look after them all, too. After their parents died, there was no other option. "Well, you're gonna have to talk to us sometime this year. Can't stay isolated forever, y'know."

~~~

Sora, Riku and Xion looked around at the school, and were focused on Namine, who was sat down underneath a cherry blossom tree. "Poor girl. She's pretty much a loner, isn't she." Xion muttered, tilting her head. "I thought she liked it that way. Drawing is her way to close herself away from the world, apparently." Sora replied, shrugging. Riku stayed silent. He wasn't really interested... so much happening at home, so little to think about.
_________________
Katou Nanami ~~~ The Two Sides ~~~ Kestra James



Posts

: 120


Join date

: 2010-06-02


Age

: 22


Location

: At the mirror





Similar topics
---
Permissions in this forum:
You
cannot
reply to topics in this forum